Cloud technologies represent IT resources (servers, applications, databases, etc.) that you access over the Internet and use them as if they were on your device (laptop, tablet, phone), although they are physically located at the provider's Data center (Microsoft, Amazon, Google and others).
Facebook, Instagram, Twitter, Linkedin, Viber or Whatsapp, as well as Azure, Office 365, Skype, Gmail are just some of the most popular services that we all use today for various private or business needs. All these solutions are based on cloud technology, since they provide their users with access at any place, any time, and from any device. In other words, they save time and money.
There are many business scenarios that can be of interest to any company regardless of size, which definitely make the job faster, make people more productive while at the same time reducing costs and shortening the return period of investment.
The use of "Infrastructure as a Service" (IaaS) enables companies to use virtual machines in the cloud environment as if they are in their data center, to match them with their business needs and pay only for what they use. For those that do not have adequate Backup or DR (Disaster Recovery) solutions,  the cloud is the right choice, regardless of whether it's short-term or long-term data storage or protection against hacking attacks. If you have a team of developers, you can provide them with a reliable application development and testing environment, which does not require any previous investment in hardware or software, and the booting of virtual machines can be measured in minutes.
Microsoft Azure is a cloud-based modern business platform that allows you to use more than 150 different cloud services. With data centers in 42 regions and 140 countries, Azure has a presence in more global regions than any other global cloud provider, giving customers the flexibility to set their applicationss where their access to them will be the fastest.
Regardless of whether business needs require basic services such as booting virtual machines and renting the appropriate storage space or advanced services such as tools for collecting, storing and advanced analysis of a large amount of data (Data Factory, Data Lake Analytics, Machine Learning, HD Insight / Hadoop, etc.), the Azure Platform allows you to pay only for the services you use and for the amount of time that you spend using them (you can limit the use of the service at a specific time for the project or for example from 09-17h).
Additionally, there is a possibility of payment on a monthly and annual basis and a special offer of the so-called reserved instances of virtual machines where, in the case of leases for 12-month or 36-month advance leases, you can save up to 35% to 70% in comparison with the basic prices for certain types of virtual machines.
As a Serbian Microsoft Partner of 2018 whose clients have the highest consumption of Azure services in our country, Informatika offers consulting and support services in using Azure Cloud services, regardless of whether you are involved in software development, advanced data analytics, and infrastructure solutions within the company or you have very specific needs within a particular industry. Cloud solutions have been used in many industrial applications, such as energetics, healthcare, education, finance, local governments, etc., and Informatika, with its experience, can support you to select and apply exactly those cloud services that will most closely match your existing environment and business needs.
Office 365 primarily consists of well-known Office applications that are used in everyday business, but can now also be used as a cloud service, which allows you to always use the latest software versions. With Office 365 you get the so-called "Enterprise" functionality of the software regardless of the size of the organization, from online meetings and document sharing to the email service of the highest business class.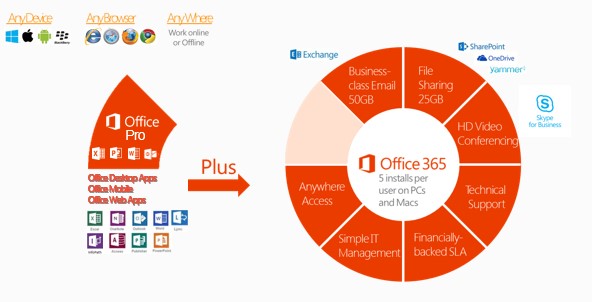 Depending on the business needs and size of the organization, Office 365 packages for business users are sold in several different options:
You can find a comparison of Office 365 packages for small enterprises (Office 365 Business Essentials, Office 365 Business, Office 365 Business Premium) here:
https://products.office.com/sr-latn-rs/business/compare-office-365-for-business-plans
You can find a comparison of Office 365 packages for big enterprises (Office 365 ProPlus, Office 365 E1, Office 3 E3, Office 365 E5) here:

https://products.office.com/sr-latn-rs/business/compare-more-office-365-for-business-plans